Network Marketing 
Your Company or My Company – however you do it, you need to have Network Marketing in your life. It is, without a doubt, the most cost effective way to start a new home business and create additional income. And who doesn't need additional income? I don't know too many people that couldn't use a little extra money to manage the household activities.
As a home business owner you have a flexible environment that allows you to fit the work into your schedule. Grow the business at your pace. With Network Marketing you are creating two types of income – income from product sales and residual income. This income grows with time and effort and can eventually replace your income from your job. Network Marketing has thousands of people, all over the world, that have retired from the corporate world to enjoy the incomes they have created.
The secret to success in Network Marketing is you – you are the messenger. Your desire and eagerness to learn and master new skills will change your life forever. These skills will turn you into a leader who can now teach others to do what you just did.
See what the Huffington Post has to say about network marketing in this Ray Higdon Article
Network Marketing vs Job
You can do this – you do this in your job already. When you are hired you learn about the company, the products or services they sell, and what you are going to do as part of the company – all through training! As you move into new positions, even leadership positions, by learning even more through training and personal development courses, you attain valuable skills.
The difference between Network Marketing and a job is the ability to use all of these skills to become financially independent and never have to take a job again. As an independent business owner you are now free to create as many income streams as you can fit into your schedule. This takes us to Personal Branding – the Branding of You! – But that is a conversation for another time.
If you want to get ahead of me and learn more about what successful Network Marketers do to grow their business and stay at the top of their game, then check this out – 
THE TOP EARNER FRAMEWORK?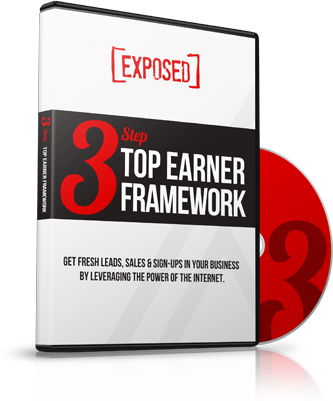 FINALLY Unlock the 3-Step Framework and Learn How to Get Fresh Leads, Sales & Sign-Ups in YOUR Business Leveraging the Power of the Internet.
Did This Help You? If so, I would greatly appreciate it if you hit the comment link at the top of the article and share this on Facebook
P.S. If you want to learn how to generate 10 – 20 leads per day on autopilot click here – generate leads 
Pat Dryer
contact email patdryer@gmail.com